The Department of Social Welfare and Development (DSWD) Field Office VII encouraged the beneficiaries under the Pantawid Pamilyang Pilipino Program (4Ps) to join the story writing contest through the 'Salaysay ng Buhay ng Pamilyang Pantawid.'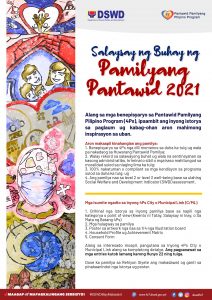 In its second year, the contest aimed to promote the positive impacts of the program in uplifting the lives of its partner-beneficiaries.
The search is open to all 4Ps family-beneficiaries for at least two years with no derogatory records and has a good standing in the community
For this year's conduct, the mechanics will remain the same, but written stories will be categorized into three different points of view: Kwento ni Itay (stories written from the perspective of the father), Salaysay ni Inay (stories written from the perspective of the mother), and Sa Mata ng Batang 4Ps (stories written from the perspective of the child).
The top three winning entries from each province in the Central Visayas region will be recognized based on the following criteria: story describes how the family's life was improved through the interventions of the program (40%), depicts how the family maintains strong ties and harmonious relationship and upholds Filipino values despite challenges brought about by poverty (30%), the story has impact and evokes emotion (20%), and the story was creatively presented through a poster (10%).
The provincial winners will compete at the regional level and the top three will be selected to represent the region at the national level.
All provincial and regional winners will get cash prizes and certificates of recognition.
Aside from the 'Salaysay ng Buhay ng Pamilyang Pantawid,' active 4Ps family-beneficiaries in the community, who are determined to improve their lives, and other people's lives will also be recognized through the 'Kaagapay ng Pamayanan.'
The DSWD staff, the Local Government Units (LGUs), barangay chairpersons, or IP leaders will fill out a nomination form to endorse a family who has extended their help to the community during the COVID-19 pandemic and/or initiatives of the family for the past 3 to 4 years.
Interested 4Ps beneficiaries can ask their Pantawid City and Municipal Links for more details on how to join the two contests. ###
(44) Views