"Ganahan ko makahuman og eskwela aron makatabang sa pamilya og panaminan sa akong mga anak nga bisan sa kalisod sa panahon ug trabaho, akong ipakita nga kaya nako ug pinaagi ani makabatun ko og respeto gikan sa uban (I would like to finish my studies so I can help my family and so my children can reflect on me that in spite of the challenging times and having a job, I can still show them that I can do it and I can earn respect from others)."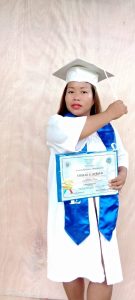 These were the words of Chelia Suello, a Pantawid Pamilya Pilipino Program (4Ps) beneficiary from Getafe, Bohol when she shared about her journey of continuing and finishing her studies to inspire her family and other people.
As a 42-year-old mother of four children, Chelia just finished senior high school or grade 12 at Tulang National High School in her town and now aims to enroll in college to earn a degree in midwifery.
Chelia did not continue her studies after she graduated from high school due to financial challenges and the need to work to help her family.
"Nipadayon ko og skwela pagniadto nagsugod ang pandemya kay tungod pwede man kini mabuhat sa balay kay adunay choice nga modular ang pagkat-on (I continued my studies when the pandemic started because I could study at home since it is modular)," she said.
Chelia explained that instead of enrolling right away in college since she had already graduated high school back then, she decided to follow the K-12 and take the senior high school's General Academic Strand (GAS) to refresh her mind on the lessons in classes.
"Tungod sa programa, nagpadayon akong nangandoy kay akong nakat-onan ang importansya sa edukasyon og paghuman sa eskwela ug nanghinaot ako na ang among pamilya molambo dili lamang sa panimalay kundi sa kaalam usab (Because of the program, I continued to dream as I realized the importance of education and finishing it. I hope our home will not just improve but we will also grow in wisdom)," she said.
Chelia wants to take up midwifery someday to help more people in her community, which she sees as a place for her to perform duties once she gets the degree.
She also wanted other parents and those who have stopped going to school to reflect on her and that it's not too late for them to continue to dream and finish their studies.
"Nangandoy pod ko nga ang mga tawo makabaton ug kahibalo sa pag-avail sa mga serbisyo sa gobyerno sama sa pagduol sa health center ug uban pang programa sa gobyerno (I want people to know how to avail the services of the government, like going to the health center)," she said.
Community health advocate
Chelia is active in her community and serves as a barangay health worker (BHW) in their local community and, at the same time, is part of the barangay monitoring team of locally stranded individuals where she earns 3,000 pesos a month.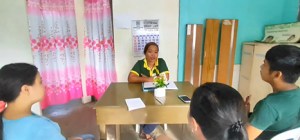 Dedicated to her work, Chelia has been serving the people in her community as a BHW for 20 years. And over those years, she thought only of the peerless joy of serving the community in spite of the minimal allowance she received.
"Isip BHW, akong kanunay gipahinumdom nga ang kalimpyo sa palibot ug kahimsog sa pamilya maoy labing maayo (As BHW, I always remind them that cleanliness and the family's health are the most important things)," said Chelia.
She realized that being an advocate for health gives her satisfaction and fulfillment, and she realized that through service, she could touch more lives of different ages. She wanted people to pay attention to their health by visiting the health center. Especially pregnant women and mothers.
"Akong dakong adbokasiya nga mopadayon og serbisyo sa katawhan bisan walay bugti o kapalit, gusto nakong makatabang ilabi na kabahin sa panglawas, kahimsog ug mga katungod ilabi na sa mga bata og kababayen-an (I believe it is my greatest advocacy to continue my service to the people even without anything in return. I want to help, especially in health, nutrition, and women's rights)," said Chelia.
Chelia has also been active in different organizations in their barangay, such as the Women's Organization, Salog Farmer's Organization (SAFARO) as a secretary, and Malungtarong Mag-uuma sa Salog (MAMSA).
Reynanay of Suello Family
At home, Chelia's main source of income is farming and raising livestock together with her husband, Magno Jr., who is a bamboo worker.
Chelia shared that prior to their inclusion in the program, the family was experiencing difficulties in their lives, especially in finances, because their sources of income were not enough to sustain their daily needs, especially when their children were still young.
"Sukad nga ako namembro sa 4Ps, adunay dakong kalambuan sa among panginabuhi og labi na kay usa ko na nahimong parent leader (Since I have become a 4Ps beneficiary, there has been improvement in my life, especially that I have become a parent leader)," Chelia said that the Family Development Session (FDS) of the program led them to become more knowledgeable about improving their way of living.
As a parent leader, Chelia shared that she is delighted to help and touch the lives of other people, especially her fellow beneficiaries of the program, and sees this as her way of giving back to the program.
In spite of the fact that the typhoon Odette totally damaged their home on December 16, 2021, Chelia and her family managed to rebuild their home with hopes that things will be better again and that they will achieve what they have envisioned their family to become-to live a stable life.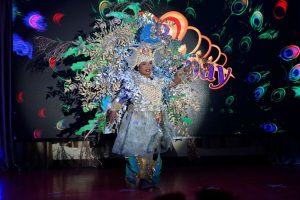 With her contribution to the community and an inspiring story that touched the hearts of the people, Chelia was chosen as one of the representatives from Bohol for the Search for 4Ps Reynanay 2022 that was held in Dumaguete City on June 16, 2022. She won third place in the best advocacy video category.
Regardless of whether she won the crown in the event honoring empowered 4Ps mothers, Chelia took home the pride of how she transformed herself, the honor of representing their town, and a once-in-a-lifetime experience that brought a plot twist in her life that she had never imagined of joining a pageant.
As she continues her journey in life along with her family, Chelia always believes and embodies her motto: "Walay imposible kong imong kayanon (Nothing is impossible if you work for it)." ###
(53) Views