Three hundred thirty-six (336) partner-beneficiaries of Pantawid Pamilyang Pilipino Program (4Ps) in Cebu paraded at the Mandaue Cultural and Sports Center as the Department of Social Welfare and Development (DSWD) Field Office VII conducted the 4Ps Ceremonial Graduation and Partnership Summit on November 29.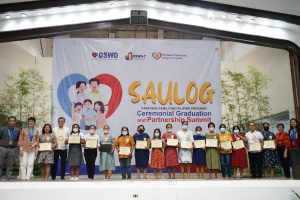 Unlike any graduation ceremonies, the rites attended by the 4Ps partner-beneficiaries manifest their families' improved well-being after years of getting support from the government through the program.
Some of the families expressed their gratitude and acceptance as they gladly graduated from the program to pave the way for new other families who, like them before, have been struggling to put food on the table and bring their children to school.
Annabelle Vildosola, a 4Ps beneficiary from Malabuyoc, Cebu, took pride in making five of her children get college degrees through their perseverance and with the help of the program.
"Nabag-o ang among kinabuhi sa dihang naapil na kami sa 4Ps kay aduna na kami kaabag sa among pagpaeskwela sa among mga bata. Kining edukasyon lamang among mahatag kanila (Our life has changed when we became part of 4Ps since it supported in sending our children to school. Education is what we can only give to our children)," said Annabelle Vildosola.
She expressed her gratitude as she and her husband felt already successful in nurturing their children and helping them get a college degree.
"Imposible na kaayo nga miingun kami nga dili pa gihapon kami makabarog, kay sa tanang tabang nga nahatag sa programa sa among pamilya. Sakto na nga kami makabarong ug pinaagi pod sa among pagtinabangay og paningkamot sa pamilya (It is impossible to say that we cannot still stand on our own after all the help our family got from the government. They are all enough for our family to stand on its own through the help of the program as well as the cooperation and persistence of our family)," she added.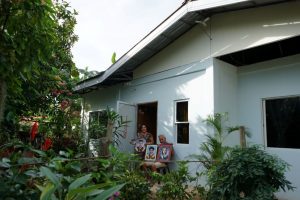 Vildosola is one of the many stories of change of 4Ps beneficiaries that reached self-sufficiency level and gladly graduated from the program.
Apart from her, some of the 4Ps graduates already own vehicles, stores, businesses, as well as a house and lot.
Some of them have gone into public service such as becoming barangay officials, barangay health workers, local government unit employees, and community volunteers from the Kapit-Bisig Laban sa Kahirapan – Comprehensive and Integrated Delivery of Social Services (KALAHI-CIDSS).
The batch of 4Ps graduated families have produced 242 college graduates with some who earned latin honors. Some of the 4Ps families have produced teachers, engineers, seafarers, hospital workers, medical technologists, Overseas Filipino Workers (OFWs), Certified Public Accountants (CPAs) and other professionals.
Lorna Cordova, one of the 4Ps graduates from Bantayan, Cebu said that 4Ps gave hope to their family especially in sending children to go to school. She recalled that the first time she received her cash grant from the government she uttered to herself "Goodbye Kahirapan" (Goodbye poverty) which she thought to be the start of their family's road to progress.
Now, her family is in a better situation than before. She is proud of her children who have become engineers, a teacher, a finance graduate, and one remaining child who is still in college.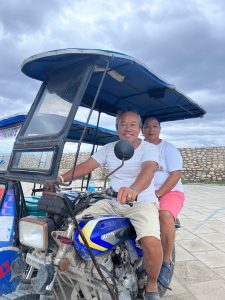 "Makabarog na kami. Kining grasya sa 4Ps ipasa napod kini sa lain nga labing nanginahanglan (We can stand on our own. It is time that we pass the blessing we received from 4Ps to those people who needed it most)," said Lorna.
From living in a house like a small chicken coop which they rented for Php 300, the Cordova family worked hand-in-hand to build a house, which is stronger and more stable like how they have become.
Since 2009, the 336 4Ps graduates from the 28 local government units in Cebu received a total of Php 53.75 million worth of support from the national government for their educational and health grants as well as rice subsidy.
The 4Ps Ceremonial Graduation and Partnership Summit was witnessed and attended by the officials and staff of DSWD, partner national government agencies, local government units, civil society organizations, and media.
The 4Ps is the government's major poverty alleviation program that invests in the health, nutrition, and education of poor eligible households. These, along with the psychosocial and educational components provided through the Family Development Session (FDS), lead the beneficiaries to have improved and sustained well-being. ###
(12) Views