Despite the lack of education, the couple Mario and Jocelyn Andujar have instilled in their children the importance of education. They support the realization of their children's dreams through education.
"Ganahan ko nga makahuman akong mga anak sa pag-eskwela kay lisud ang trabaho sa bukid. Isip head of the family, gusto nako nga maka-eskwela sila aron maayo ilang kaugmaon (I want my children to finish their education because it has been difficult working as a farmer.  As the head of the family, I want them to study and have a good future)," said Mario Andujar, 51 years old, a farmer and a plumber, in Barangay Upper Becerril, Boljoon, Cebu.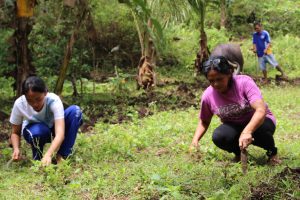 His wife, Jocelyn, works hand in hand in raising their four children.
The family's income includes livestock raising like pigs and goats and poultry raising. They also plant corn, peanuts, and beans. They also have few coconut trees.
The eldest son, Orlan, enrolled in Bachelor of Industrial Technology (BIT), major in Electronics at the Cebu Technological University (CTU).  The second child, Meraly, finished a vocational course and now works as an encoder. She will pursue Electrical Engineering.
The two monitored children Mario Jr. and Mary Gold, are a seafarer and a student, respectively. Mary Gold will study Bachelor of Elementary Education (BEED) in the next school year.
To support their younger siblings' education, Orlan and Meraly also worked in Manila to augment their family's income.
"Karun nga nakatrabaho na si Mario Jr. isip seaman, siya napud gasuporta sa pag-paeskwela sa iyang kuya karun (Now that Mario Jr. works as a seaman, he supports his elder brother's education)," said Jocelyn.
Jocelyn recalled that their family was struggling before to make ends meet. The family also used to live in a house made of light materials.
She added that they usually earned Php 400.00 a week, and from that earning, they will get their daily consumption of rice and viand, and they cannot anymore provide the school needs of their children.
But the health and education grants they received from the Pantawid Pamilyang Pilipino Program (4Ps) as beneficiaries augmented their income.
"Dako among pasalamat nga naapil mi sa Pantawid kay nakatabang kini sa pagpa-eskwela sa akong mga anak. Nakapalit mi og bag-ong uniform, sapatos ug uban pang gamit sa eskwelahan (I am grateful that I become part of Pantawid because it helped in supporting my children's education. I was able to buy new uniforms, shoes, and other school supplies)," added Jocelyn.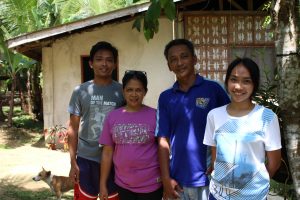 She added that because of this government program, they had maximized their income and used it to purchase other home essentials.
The family had saved money and able to purchase a lot, where they constructed their semi-concrete house.
To further support the family's income, Jocelyn joined the Pondohan Boljoon Pantawid Sustainable Livelihood Program Association (SLPA), which sells rice, sugar, and animal feeds.
Now that the family has graduated from 4Ps, Mario and Jocelyn hope that their remaining children will be able to finish their chosen course and will land a job.
For Mario and Jocelyn, education is the most precious treasure that their children can have. ###
(50) Views