Despite the COVID-19 pandemic, Pantawid Pamilyang Pilipino Program (4Ps) families in Central Visayas continues to keep their gardens flourish as a source of their family's food and additional income.
Mimbalawag Family
The family of Judith Mimbalawag of Brgy. Balidbid, Santa Fe proves that gardening provides many benefits to the family.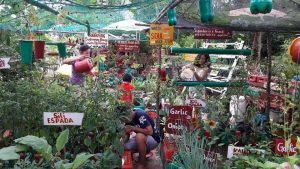 "Makatabang pud ang gulayan sa pagpanalipod sa kalikupan tungod kay ang mga materials nga gigamit namo kay environment-friendly man sama sa mga natural fertilizers ug pag-recycle pinaagi sa pag-gamit sa mga plastic bottles isip sudlanan sa mga tanom (The vegetable garden also helps in protecting the environment because we use materials that are environment-friendly like natural fertilizers and recycling plastic bottles as plant container)," said Judith.
Judith shared that gardening is already part of their daily routine and each of her four children has tasks in tending their family garden that has a wide variety of vegetables like onion, garlic, eggplant, ginger, cabbage, pumpkin and many more.
"Dako gayud ang natabang sa Pantawid sa among pamilya labi na sa pagpaeskwela sa among mga anak apan wala pud ta nagsalig mao nga maninguha ta sa atong trabaho ug kining pag-garden aron naa mi makuhaon sa among pagkaon (Pantawid greatly helps our family especially in sending our children to school but we do not solely rely on to the program. Hence, we continue to persevere with our work and with our gardening as our source of food)," added Judith.
Her family has a small store and Judith delivers eggs and tablea within the town of Santa Fe, one of the towns in Bantayan island, northern part of Cebu.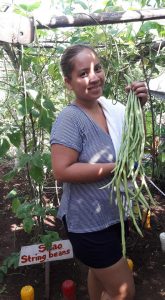 She underscored that their garden is special because it is a form of bonding for their family.
"Espesyal kini nga gulayan kay gitanom ug gi-amuma nga adunay gugma. Gugma dili lang para sa kalikupan kundi labi na para makatabang sa pamilya ug sa komunidad aron adunay pagkaon nga makapabusog, makapahimsog ug makatabang aron maluwas labi karong panahon sa pandemya (Our garden is special because we plant it with love and take care of it. Love, not only for the environment but most specially love to help the family and the community so that there will be food to fill the stomach, to make the body healthy and to keep safe during this time of pandemic)," said Judith.
Recently, the Mimbalawag family received a recognition as the municipal level winner for the SUGBUsog "Sugbuanong Busog, Luwas ug Himsog," a vegetable gardening contest organized by the Cebu Provincial Government. The contest aimed at giving families an opportunity to be productive and self-sufficient by engaging them into vegetable gardening.
Estorgio Family
The Estorgio family in Brgy. Panghagban, Buenavista, Bohol also cultivated their farm for their daily consumption and as a main source of livelihood.
The couple Marcelo and Clarita decided to focus on vegetable farming in 2010 after they received the lump sum cash grant from 4Ps amounting to Php 9,500.00.
After all the school expenses were paid and school needs were provided, the remaining money was used as capital for a vegetable farm including the vegetable seeds and garden equipment.
During the initial harvest, the Estorgios sold their vegetable produce on the town's market day. Now, the family expanded their market and delivers to the neighboring towns like Getafe, Sagbayan, Inabanga, Danao and Tagbilaran City.
"Tungod sa pagkugi sa pagpananom nakapa-eskwela kami sa among mga anak. Naay nakahuman dressmaking sa TESDA ug nakahuman college sa Bohol Island State University (BISU) ug karun teller sa Palawan pawnshop (The hard work we do in farming helped us send our children to school. One of them finished dressmaking at TESDA and the other one finished college at Bohol Island State University (BISU) and presently works as a teller of Palawan pawnshop)," said Clarita.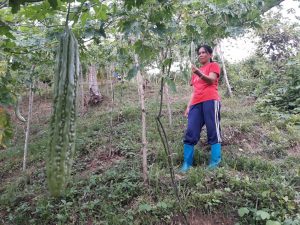 Clarita shared that they were also able to buy a laptop for their grade 11 daughter to be used in her online class this incoming school opening.
The family has slowly repaired their house made of salvage materials into concrete and sturdy one.
Gulayan
The Department of Social Welfare and Development (DSWD) continues to strengthen the implementation of communal and backyard gardening project among 4Ps partner-beneficiaries especially during this pandemic to empower them and promote good health among poor Filipino families.
Gardening aims to help address the nutrition concerns of beneficiaries by encouraging families to use indigenous seeds and organic fertilizer to grow vegetables within their own communities or households.
The DSWD has incorporated knowledge and skills enhancement training in the family development sessions (FDS) of 4Ps beneficiaries to enable them to become productive members of society and to provide them support for self-sufficiency. ###
(154) Views