"Ganahan ko mahimong teacher (I want to be a teacher)," said John Nick Calambro, a 15-year-old child from Barangay Arebasore, Mabinay, Negros Oriental.
At a young age, John Nick has experienced working at the farm to have food on the table.
John Nick's parents separated when he was still five years old. He shared that he has a vague memory of his mother. John Nick and his younger sister, Rhian Mae, would be left in the care of their aunt or his grandfather, who live near their house. But more often, they would be left alone whenever their father would work at the sugarcane farm.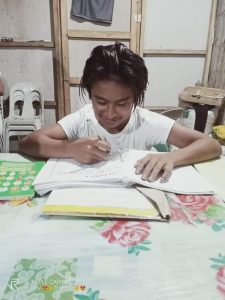 He did learn various household chores such as cooking, washing laundry, and feeding the chickens in their backyard.
When their family became part of the Pantawid Pamilyang Pilipino Program (4Ps), it augmented his father's income as a sugarcane worker.
As an elementary pupil, he would try his best to learn the different subjects. He would help his sister answer the assignments. He would also join extra-curricular activities especially during school activities.
When John Nick and Rhian entered grade 7, they had to enroll in the neighboring barangay, where the secondary school is. Both of them have to walk for almost an hour to reach the school.
In 2017, their father and his new live-in partner went to Cebu. John Nick and Rhian were left, in the care, of their grandfather.
"Lisud gyud to kay wala naman si Papa ug wala na siya nagpadala namo mao nga naka-undang ko og usa ka tuig sa eskwela aron makatabang sa bukid (Life was difficult because our father has left us and he no longer send support to us. So I have to quit school for one year to work at the farm)," recalled John Nick.
Since the sugar cane harvest is seasonal, the family would also sell various kinds of vegetables to have an additional source of income.
John Nick would assist his grandfather and uncle by watering the plants and weeding at the farm.
With the help and encouragement of the 4Ps Municipal Links (MLs) and Parent Leaders, John Nick returned to school. They also asked John Nick's father to return the 4Ps cash card from Cebu to Negros Oriental. After the cash card's return, the ML processed the change of 4Ps grantee from the father to John Nick.
Now, John Nick and Rhian Mae are back to school. Currently, their aunt regularly attends the 4Ps Family Development Session (FDS).
The beneficiaries who complied with the program's conditions in a particular period will receive the full grants. Based on the Republic Act 11310, households may receive Php 750.00 for compliance on health and FDS; elementary children monitored by the program will receive Php 300.00; children in junior high school, Php 500.00 and Php 700.00 to senior high school children.
"Paninguhaon nako nga makahuman og eskwela aron makab-ot nako akong pangandoy nga mahimong teacher (I would strive to finish my studies to achieve my dream as a teacher)," he said.
He added that being a teacher is a noble job. He admires the dedication and patience of teachers in honing young minds like him.
"Bisan paman sa among naagian sa akong igsuon magpadayon gihapon kami sa pageskwela (Despite the struggles that my sister and I have to face, we will continue to study)," he added.
John Nick is excited to return to school as he moves up to grade 9 in the incoming school year. ###
(62) Views