The DSWD-Visayas Disaster Resource Center (VDRC) held a ceremonial inauguration for the re-installation of the Mechanized Production System (MPS) for Family Food Packs in Barangay Tingub, Mandaue City, on June 22, 2022.
Through the MPS, the VDRC is expected to produce a maximum of 50,000 family food packs (FFPs) daily.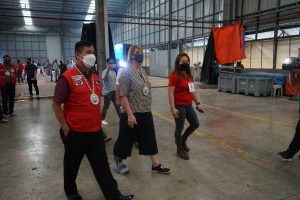 The MPS facility ceased operations in September 2017 because of a warehouse transfer from Barangay Casuntingan to, now, Barangay Tingub. It resumed operations on December 20, 2021, just in time for the intensive Typhoon Odette response operations.
In DSWD Secretary Rolando Joselito Bautista's speech, read and represented by DSWD Disaster Response Management Group Undersecretary Felicisimo Budiongan, he said that the re-installation of the MPS is one of the Department's moves in strengthening its systems and processes to improve the provision of aid to the affected population.
"VDRC is equipped with a custom-built mechanized production system designed to rapidly produce 50,000 family food packs in a day, which is enough to feed 250,000 people for 3 days. Together with the mechanized production system at the National Resource Operations Center (NROC) in Pasay City, the Family Food Pack production capacity will be doubled enough to feed 500,000 people for 3 days," the Secretary said in his message.
He added that through the facility, the Department has ensured the sufficient and efficient delivery of FFPs to the Visayas and Mindanao regions.
USec. Budiongan also mentioned the secretary's message of gratitude to the United Nations-World Food Program (UN-WFP) for helping in the establishment of disaster response centers in Luzon, Visayas, and Mindanao in order to improve and decentralize the Philippine government's response to disasters and calamities.
For her part, UN-WFP Philippines Country Director Ms. Brenda Barton said that "logistics is the backbone of the WFP because, at the end of the day, if we can't get food quickly, we're not doing our job. So this kind of system is very unique in the world and it's a very unique partnership with DSWD. We're just supporting you. We play a very very small role. We're doing it, you're the frontline."
DSWD and the United Nations-World Food Program (UN-WFP) are in a strategic partnership to further enhance the government's emergency response and supply chain capacity.
The VDRC, headed by Engr. Irish Flor Yaranon, is under the DSWD National Resource and Logistics Management Bureau. The center augments support of food and non-food items (FNFI) to the regional warehouses.
Present at the ceremonial inauguration are NLRMB Director Emmanial Privado, DRMB Director Clifford Cyril Riveral, Field Office 6 Regional Director Evelyn Macapobre, Field Office 8 Regional Director Grace Subong, and Field Office 7 Assistant Regional Director Shalaine Marie Lucero, with DRMD chiefs and section heads from all over the country as part of the activities for the 2022 Disaster Response Convention.
While the Department provides the needed basic services to disaster-affected families through the provision of FNFI, the local government units (LGU) are the first responders to the occurrence of natural and man-made calamities, based on Republic Act 10121, otherwise known as the Philippine Disaster Risk Reduction and Management Act of 2010. ###
(39) Views