The recent eruption of Philippine's Mayon Volcano in Albay has caused thousands of nearby residents to evacuate for their safety from more eruptions of the volcano that could take place anytime with an alert level already raised to four (4) according to authorities.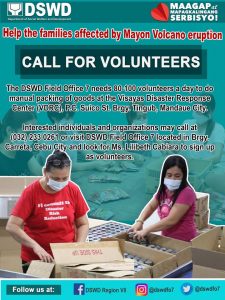 As per National Disaster Risk Reduction Management Council (NDRRMC) 83,533 persons are already taking temporary shelter in 59 evacuation centers and were forced to evacuate after the two explosions of the volcano for their safety.
The Mechanized Production System (MPS) in the Visayas Disaster Response Center (VDRC) Hub is currently under re-assembling due to transfer of location. It was formerly installed in Barangay Casuntingan, Mandaue City and was later on transferred to Barangay, Tingub, Mandaue City.
The VDRC's MPS is designed to rapidly produce 50,000 family food packs in a day, which could feed up to 250,000 people for three days. However, with its current condition, the target number of family food packs to produce will not be met.
Thus, the Department of Social Welfare and Development Field Office VII (DSWD-7) is calling individuals and organizations with spirit of volunteerism to help in the manual packing of family food packs that will be delivered to affected families of the current volcanic eruption.
80 to 100 volunteers will be needed every day for the manual packing of family food packs in the Visayas Disaster Response Center (VDRC) located at P.C. Suico St., Barangay Tingub, Mandaue City.
"We are calling for volunteers whether you are a private individual or from an organization to help us in fast tracking our manual packing of goods for our family food packs," said DSWD-7 Assistant Regional Director for Operations Shalaine Marie S. Lucero.
Interested individuals and organizations may call at (032) 233-0261 or visit DSWD Field Office VII located in Brgy. Carreta, Cebu City and can look for Ms. Lilibeth Cabiara to sign up as volunteers.
After signing-up, a volunteer orientation will be conducted before the deployment. ###
Hits: 0