The Province of Negros Oriental through the leadership of Gov. Roel Degamo has assured strong support to the Department of Social Welfare and Development (DSWD) Field Office VII in line with the implementation of the agency's various programs and services.
Enrique Gonzalez, Demago's representative during the recently concluded Kaya Ko ang Pagbabago Awareness Walk in Dumaguete City on June 19, 2015 bared that "Gov. Degamo encourages everyone to continue supporting every program and service of DSWD."
"When there is unity, there is peace because when we work together as one then we can achieve so many things," said Gonzalez who delivered Degamo's speech.
"Kaya ko, Kaya Mo, Kaya nating lahat. The Governor wishes to inform the DSWD that we in the province of Negros Oriental will give all out support in every program and project of the department," he said.
"The governor would like to send his heartfelt support to the DSWD for all the programs implemented by the agency not only in Dumaguete City but to the entire province of Negros Oriental," Gonzalez added.
Gonzalez, who is the former mayor of Valencia bared that DSWD programs like Pantawid Pamilya truly helps the poorest of the poor.
Dumaguete City Vice Mayor Woodrow Maquiling Sr. for his part thanked DSWD for all the programs and services implemented in the city.
He disclosed the city's local government has always been supportive of DSWD.
Maquiling together with DSWD-7 assistant regional director for operations Shalaine Marie Lucero led the participants of the awareness walk.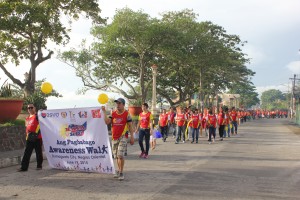 Lucero in her speech pointed out that the Kaya Ko ang Pagbabago Awareness Walk was aimed to strengthen the DSWD-7's information and advocacy drive.
"We want to inform the public of the various programs and services offered by DSWD like the Pantawid Pamilyang Pilipino Program, Sustainable Livelihood Program, Kapit-Bisig Laban sa Kahirapan-Comprehensive and Integrated Delivery of Social Services, Social Pension, among others," said Lucero.
More than 300 partner-beneficiaries, DSWD and Department of Education officials, students and partner implementers joined the activity.  Students from Foundation University, St. Paul University and Siliman University made the event more meaningful.
Highlights of the activity include the turn-over of Social Pension to selected beneficiaries and the moving testimonial of Lishley Abillar, a Pantawid Pamilya high school beneficiary who recently graduated as class valedictorian of Dumaguete City High School.
Abillar shared her story of positive change by narrating her struggles as a student and how she fought poverty at a young age. Abillar is currently enrolled in Siliman University as an academic scholar.
DSWD is the lead agency in social welfare and development anchored on the mission to develop, implement and coordinate social protection and poverty reduction solutions for and with the poor, vulnerable and disadvantaged.
Hits: 0