"Naranasan kong muntik ng malunod (I almost got drowned)," recalled Nicolas Sanico from Barangay Bongalonan, Basay, Negros Oriental as he tried fishing when he was in high school.
Sanico used to believe that there are only two kinds of people in the world: the rich and the poor. Since he belonged to an impoverished family, he somehow believed the need to accept it as God's will especially when he recalled the hardships he underwent.
When he was still in grade one, he sold ice candy and puto cheese from his teacher so that he would have something to eat during recess. At lunchtime, he would go home to eat, and most of the time he ate rice with no viand.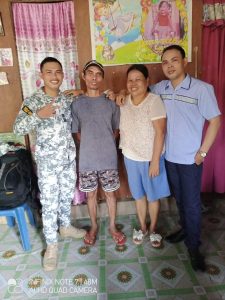 His father, Romulo, was a construction worker and had to walk 20 kilometers daily because he did not have spare money for the fare. Until the time when his other brothers joined his father as construction workers and their joint income was only Php 500 per day. He was in grade five when the price of rice doubled and their meager income was not enough to sustain the needs of the whole family.
Eager to help his parents, Nicolas learned to become a fisherman. It was difficult, especially if they had to dock in faraway places because he would be absent from school.
"Naranasan kong muntik ng malunod ang aming sinasakyang bangka na kinailangan naming hubarin ang aming damit upang gawing panakip sa butas ng bangka upang hindi malunod ito sa dagat, hanggang sa kami ay masagip ng mga rescuers (We almost got drowned because our boat had a hole, and we had to remove our shirts to cover the hole to prevent it from sinking until the rescue came)," said Nicolas.
Despite the incident, Sanico continued going with the fishermen, not until his mother was struck by a fence in the underarm while drying the fish that he caught. Fortunately, she survived the accident, but this prompted him to stop fishing and focus back on his studies.
Then, a big help came through the Pantawid Pamilyang Pilipino Program (4Ps) from the Department of Social Welfare and Development (DSWD). Later on, his mother became a 4Ps Parent Leader and became active in the program's community activities.
The 4Ps cash grant augmented the family's income and helped in sustaining their school allowance and school projects.
Through their determination, Nicolas finished high school, and his older brother graduated college who received the Presidential Academic Award. Even without any celebration they were extremely thankful to God for their achievements.
However, challenges continued to follow them while he and his other brother Jeffer pursued college because the tuition fee is not free, apart from the daily needs of the family.
Luckily, during his 3rd year in college, the Expanded Student's Grants-in-Aid Program for Poverty Alleviation (ESGP-PA) opened and two slots were given for him and his brother as they were both qualified because of their high grades.
But then, another challenge came, the guidelines suddenly changed. Sibling will not be allowed, thus his brother was removed from the ESGP-PA. This was to give chance to others who were not included. It was a huge blow to their family because the stipend they received helped augment the school expenses and allowances.
Yet it did not deter his brother's determination to finish his studies and landed with another scholarship in the Commission on Higher Education (CHED). With perseverance and hard work, both of them graduated in college on March 23, 2018.
The family, especially his parents, were so overjoyed on the important milestone of the family. After graduating, he worked for two (2) years in their municipal government and also took the Licensure Examination for Teachers (LET) three times but failed.
Without losing hope, he changed his plan and tried applying in the Philippine Coast Guard (PCG) and was accepted as a trainee.
Nicolas said that it was difficult to become a trainee. Some of them almost went insane especially when the COVID-19 pandemic came. There were moments that Nicolas just wanted to stop and go home instead, but the thoughts on his family's sacrifice made him continue.
He surpassed all the difficulties because his courage overpowered his fear. He needed to continue to fulfill his dreams for his family so that they would not have to go back to poverty.
Until he became officially part of the Philippine Coast Guard and was assigned in Palawan. Sometimes he joins in the mission in the West Philippine Sea and he was part of the news in May 2021 about PCG warning the Chinese vessels in Sabina Shoal, which is part of the Philippines exclusive economic zone. Nicolas was the one who took the videos and photos to document the encounter.
In just one year of service in Palawan, he received six (6) recognitions. Currently he is under the Office of the President, the National Coast Watch Center (NCWC).
"Para sa akin ang pag-asenso ay hindi pala swerte kundi kinakailangan ng tiyaga, tapang, tibay ng loob kasama na ang panalangin at gabay ng Maykapal. Malaki din ang naitulong ng ESGP-PA at 4Ps upang matustusan ang aking pinansyal na pangangailangan at napatunayan ko sa pamamagitan ng edukasyon, maluwalhati kong nakamtan ang pangarap ko sa buhay (For me, success is not about luck because it needs hard work, courage, determination and faith in God. The 4Ps and ESGP-PA also played a very big part in the financial aspect and I proved that through education, I can attain my dreams in life)," he underscored.
Nicolas believes that nobody needs to be drowned in poverty because anyone has the power to change the course of life.
The sea has always been a big part in the life of Nicolas and just like the sea waves, his life has been full of ups and downs but his sheer determination and perseverance surpassed these waves of challenges. ###
(1) Views