Barangay Cabagakian of Dimiao in Bohol recently received a 1 km concrete access road worth Php 7.5 million from the Department of Social Welfare and Development (DSWD) through the Kapit-Bisig Laban sa Kahirapan Comprehensive and Integrated Delivery of Social Services (KALAHI-CIDSS).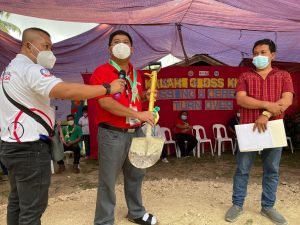 The project commenced in August of 2021 as part of the Kapangyarihan at Kaunlaran sa Barangay (KKB) funding of the program, which aims to provide livelihood opportunities while addressing various concerns that hinder the improvement of the livelihood development of a community.
Because of the newly-developed road in Cabagakian, accessible social service facilities will soon be available in the vicinity, as promised by the Local Government Unit (LGU) of Dimiao.
LGU Dimiao pledged to put up a barangay center where access to basic social services such as a rural health unit is proposed to be established while aiming for an increased zonal value so that more people will have the trust to start new ventures in the community through the opening of livelihood enterprises.
The implementation lasted for about seven (7) months, including capacity-building and training of volunteers.
"Sa akong pila ka tuig nga pagpanerbisyo sa katawhan, karon pa gyud ko nakasinati nga nahatagan og katumanan ang among gipangandoy nga access road gikan sa DSWD. Nahimugso ang among mga damgo tungod sa nagkahiusang pag paningkamot sa katawhan (In my many years of serving the people, this is the only time that I have experienced the fulfillment of seeing our long-time desire to have an access road come to fruition. Our dreams were born because of the efforts of the people)," said former Cabagakian chieftain Proceso Lagumbay on how he saw his community transformed from wishing to have projects to witnessing a turnover ceremony because of KALAHI-CIDSS.
DSWD Assistant Secretary Rodolfo M. Encabo, together with DSWD Field Office VII Assistant Regional Director for Administration Antonio R. Dolaota, led the turnover of the community project to the people of Cabagakian.
"The government is of the people, by the people, and for the people. This is the promise of our government in heeding the call of nation-building" says Encabo while emphasizing the importance of a corruption-free community. ###
(41) Views