The Department of Social Welfare and Development (DSWD) once again proves that beyond social welfare, the agency can deliver a multitude of services to the communities. Through the Kapit-Bisig Laban sa Kahirapan Comprehensive and Integrated Delivery of Social Services (KALAHI-CIDSS), the coastal town of Oslob, Cebu received sets of artificial reefs.
Gawi, a coastal barangay, and the recipient community came up with various artificial reefs (ARs): 25 sets of mid-profile pyramids, 47 sets of low-profile pyramids, and 220 round coral tables; one set of the mid-profile concrete weighs at least one ton. These ARs, which cost Php 881,800, were identified by the community to be installed in an 82,500-square meter seabed at Gawi Marine Sanctuary.

During Typhoon Pablo in 2013, the majority of the corals found in the reef area were totally destroyed. When Typhoon Odette came in December 2021, the recovering corals were again destroyed, with approximately 80% of the marine area being devastated. For the Gawi community, the remedy was to rehabilitate and install concrete pyramid-shaped AR structures that can be used as "planting" hard stable substrates, that are also typhoon-resilient.
KALAHI-CIDSS volunteers and local officials identified this as their priority and presented it to DSWD for a grant to revive the livelihood of fishing communities and revitalize the damaged marine ecosystem
"We have been struck by a series of typhoons, and the only way to rehabilitate our marine area is to install artificial reefs. Kay murag nahawan gyud ang ilawom sa dagat ug nawash-out ang mga corals nga maoy puy-anan sa mga isda (it seems that the bottom of that ocean's floor has been cleared and the corals that serve as habitat have been washed out)," said village chieftain Marco F. Suson.
These ARs are composed of reinforced concrete slabs which, when assembled into a pyramid-shaped AR, can withstand strong waves, even those generated by strong typhoons. The Gawi community proposed the designs of these structures to mimic natural reefs that can provide habitat and encourage organisms to settle upon while increasing marine productivity, which will help the fishing community rather than look for other sites.
Village chief Suson shared that his community has an environmental advocacy called "Blue Thumb" that encourages divers to "plant" broken coral fragments as their way to help in restoring, protecting, and saving a dying reef back to life or rehabilitating devastated corals within the Gawi Marine Sanctuary. With KALAHI-CIDSS' intervention, it has since heightened, encouraging more people to be cooperative and take part in laudable community service.
Members of this advocacy group, composed of diver volunteers from various affiliations and agencies, free divers, and environmentalists, were mobilized to help in their rehabilitation program and helped in the installation of the ARs in barangay Gawi.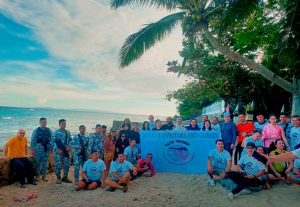 The objective of this advocacy group is to rehabilitate, restore, and protect the marine sanctuary. "When you plant any plant and it grows, you have a green thumb. But since our advocacy is to protect the marine environment, blue thumb is what you call for "planting" broken branching coral fragments salvaged from becoming coral rubble or dead corals," according to William Villaver, a marine biologist and member, citing that the advocacy group helps address a diminished or zero fishing population due to dead corals.
"We introduced the importance of rehabilitation since we already knew about the problem of our oceans. Fish and other marine life started to migrate to other areas since there is damage to our seabed. That's why we proposed to the local officials that a solid, stable structure for "planting" coral fragments be considered as their community project," said William Villaver when asked why they came up with this idea of concrete pyramid-shaped artificial reefs.
After a series of consultations and other grassroots organizing activities, the Gawi community finally launched the installation of these structures into the ocean floor during a 2-day activity on November 26-27, 2022.
"We know that we cannot work on this project alone. That's why we employed the spirit of volunteerism that KALAHI-CIDSS taught us by mobilizing Blue Thumb to install the artificial reefs," Suson explained that the advocacy group helped them despite the bad weather conditions and strong waves during the activity.
This advocacy intends to install round coral tables with embedded concrete nails designed for non-divers or snorkelers who are eager and want to do their share in the rehabilitation of the devastated reefs. With the monitoring of Blue Thumb volunteer divers, non-divers would know if they have the "blue thumb," when the coral fragments they planted will soon start to grow.
With these artificial reefs now installed in the marine areas, Gawi is hopeful that it will provide a livelihood for the locals by providing assistance to the Blue Thumb volunteer divers during "planting" activities of non-divers, snorkelers, and diving guests as their ecotourism activity.
Oslob Mayor Ronald L. Guarin said he was inspired by the concern of DSWD for his community. He is hopeful that the project will bring back the rich marine life in his town. "Nanginahanglan kita sa mga produkto sa atoang kadagatan apan kinahanglan usab nga panalipdan nato ang atoang kalikupan. Mao nga na-inspired ko sa gibuhat sa KALAHI-CIDSS ug sa komunidad sa Gawi kay dako kaayo kini og tabang sa pag-uswag sa atong lungsod (We need resources from the ocean, but we have to protect our environment. That's why I am inspired by the KALAHI-CIDSS and the community of Gawi for doing this because it is really a big help in the development of our town)."
He encouraged everyone in the community to get involved in keeping these projects sustainable and even called the "Bantay Dagat" to actively patrol the area and help monitor the progress and growth of the corals.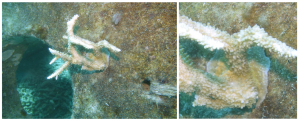 In fact, Gawi Fisherfolks Association, the operations and maintenance group, will be allocated Php 50,000 per year to operationalize sanctuary management, including sustainability evaluation, regular clean-up drives, coral planting, and monitoring coral growth. "Plano sa atong lungsod nga molungtad ug molahutay kini nga proyekto aron mas daghan ang matabangan sama sa pagpalambo sa atong turismo ug paghatag og oportunidad sa atong mananagat tungod sa ka-abunda sa kadagatan (Our town plans to make this project sustainable so that it will boost our tourism and provide opportunities for our local fisherfolks out from the bountiful resources found in our oceans)," the mayor enthused.
Following the success of this project, there is an intent to replicate the artificial reefs, and several organizations have contacted them through social media. A luxury resort in Mactan, Cebu, a group of marine preservation advocates from Hong Kong, and an international service organization expressed their interest in the project, a validation that their efforts are starting to yield positive results.
The world's oceans are vital to our lives. It helps us breathe, regulates the climate, and serves as a home to a huge range of species. Because of human-induced activities and climate changes, the oceans are slowly deteriorating, leaving us helpless and affecting the way we live.
But because of KALAHI-CIDSS and its partner community in Gawi, the chances of bringing back the beauty that was lost in the process will not be far behind. With these artificial reefs, DSWD is hopeful that the project will provide local communities a viable habitat for marine life that will bolster the abundance of rich marine natural resources. ###
(92) Views