In the enchanting islands of Camotes in Cebu, three habal-habal drivers turned security guards shared their gratitude to the Department of Social Welfare and Development's Sustainable Livelihood Program (SLP) for helping them change their lives as well as their families.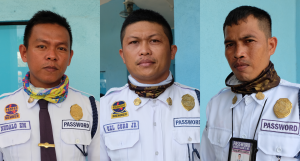 These three, namely: Randy Peroso, Johan del Coro Jr., and Eugene Nudalo availed of the employment facilitation (EF) track that provides individuals access to locally avail jobs through public-private partnership. In 2017, the three took the 45-day skills training for Security Service NC1 in DSWD partner training center.
This track aims to adequately prepare the participants for employment through skills enhancement and pre-employment training and provide direct linkages to the labor market.
Now, they are employed at the extension office of the Land Transportation Office (LTO) in the municipality of Poro to secure the vicinity and enforce preventive measures they learned from the training.
Way back four years, Peroso recalled his life waiting the whole day for passengers to ride with him in his motorcycle to earn a living for his family.
Peroso shared that he and his fellow drivers went right away to the SLP office in their town when he heard about the posting of DSWD about EF that would provide training on security services.
"Nalipay gyud mi ato pagkabasa namo sa posting sa bulletin board kabahin sa programa para makakat-on mig lain ug adunay bag-ong opportunity para namo (We were elated when we read the posting in the bulletin board about the program so we will learn something new and get better opportunities)," said Peroso.
Peroso added that he is immensely grateful to be a beneficiary of the program because after he finished his training, he and some of his colleagues landed new security guard jobs.
Moreover, Del Coro said that his daily earning depended on the weather and the number of passengers they transport a day when they were still habal-habal drivers. Before, he usually took home 200 to 300 pesos a day.
"Karon, klaro na nga naa gyud mi kita sa inadlaw-adlaw kung mo-duty gyud mi (Now, we have a stable daily income if we are on duty)," del Coro said while comparing to his previous experience as a habal-habal driver.
Meanwhile, the DSWD has assisted 35 individuals from San Francisco trained for security services last 2016 and 2017. The DSWD provided each of them 20,000 pesos for their tuition fees, meals, uniforms, and allowances.
Other skills training conducted under EF were bread and pastry, fish processing production, pharmacy assistant, call center services, haircut and hair coloring, housekeeping, shield-metal arc welding, massage and wellness, nail care, automotive, and small engine services. All of which have national certificates from Technical Education and Skills Development Authority (TESDA).
A total of 377 individuals from San Francisco town finished their training under EF last 2016 and 2017. Most of them are now reportedly working in reputable malls, minimarts, pawnshops, resorts, and many other establishments around Cebu. ###
(283) Views