As the Philippine public sector institutions geared towards a holistic and collaborative framework for designing and executing roadmaps to long-term reformation, the Department of Social Welfare and Development Central Visayas and Bureau of Customs Port of Cebu held their first governance sharing session on 4 November 2021.The agencies share their journey towards Performance Governance System Pathway, highlighting the best practices they could learn and adapt from each other to achieve improved public service delivery.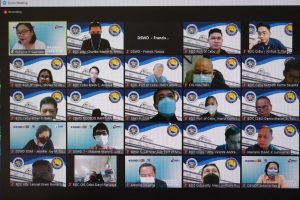 Governance sharing is one of the elements of the performance governance system where sharing of comprehensive exchange of best practices among government agencies takes place.
Both national agencies shared their PGS strategies. DSWD shared to BOC Port of Cebu how they recalibrated their strategies to be responsive, especially in this pandemic.
DSWD-7 Assistant Regional Director for Operations and PGS Focal person, Shalaine Marie Lucero, presented to BOC Port of Cebu the DSWD Strategy 2028, DSWD SULONG Recovery Plan, and the breakthroughs of the agency.
Lucero also discussed the DSWD-7's strategic contribution to the SULONG Recovery Plan, cascading activities, best practices, information dissemination efforts, and SPARK Awards.
Anti-Red Tape Unit focal person Antonio Yap highlighted the customer care and client satisfaction and mechanisms of the agency where in the past 9 months of the year 2021, DSWD has maintained Very Satisfactory ratings each month in the client satisfaction survey results.
Yap stated that the DSWD used the result of the CSM survey for service improvement, reporting for oversight agencies and performance management teams within the agency, and nomination for awards.
DSWD-7 Regional Director Rebecca Geamala said that everyone in DSWD called themselves governance warriors and has understood their roles and responsibilities in achieving its goals in the PGS journey.
Geamala emphasized that everyone in the department is involved in the PGS journey.
"We are working so that our services will have a long-term reformation. We wanted everybody to know that DSWD exists and that we have programs and services that they can avail," Geamala shared.
Geamala said the PGS Pathway is linked to DSWD's vision that all Filipinos will be free from hunger and poverty, have equal access to opportunities, enabled by a fair, just, and peaceful society.
The DSWD Strategy Map 2028 through the PGS Pathway was developed to provide the strategic focus to deliver its mission by facilitating coordinated efforts and convergence of different partners and stakeholders. It aims to improve social protection contributing to poverty reduction. ###
(29) Views