In its maiden edition of the Search for 4Ps ReyNanay, a 4Ps partner-beneficiary from Basay, Negros Oriental was crowned as the 4Ps ReyNanay held recently in Dumaguete City.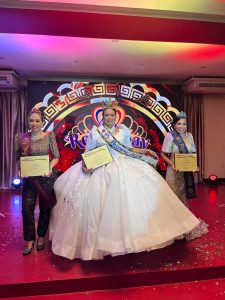 Justina Villego from Barangay Cabalayongan beat 7 hopefuls to be the first 4Ps ReyNanay. She was also adjudged Best in Introduction Video, Best in Festival Attire, and Second Place in Best in Advocacy Video.
Her court is composed of Felisa Arriesgado from Daanbantayan, Cebu as the first runner-up and the ambassadress for education; and Jonaly Erme from Manjuyod, Negros Oriental as the second runner-up and the ambassadress for health.
Felisa clinched the Best in Advocacy Video special award, while Jonaly got the Best in Eco-Casual Wear and the Best in Modern Filipiniana Terno.
The other regional finalists are Jovencia Palingcod (Batuan, Bohol), Chelia Suello (Getafe, Bohol), Alma Cabonada (Aloguinsan, Cebu), Claudia Gonzales (San Remigio, Cebu), and Emelyn Enad (Maria, Siquijor).
The eight 4Ps ReyNanays competed in different segments like the colorful festival attire that represents their local culture and heritage; eco-casual wear, which used recyclable materials; and the modern Filipiniana terno, which showed a creative interpretation of the national attire with a modern twist.
They also showcased their stories during the Testimony of Change, in which they shared their life journey and how their family's life was improved through the interventions of the Pantawid Pamilyang Pilipino Program (4Ps).
"Tinuod gayud nga ang tumong sa 4Ps ug uban pang core programs sa DSWD nga putlon ang inter-generational cycle of poverty ug pag-invest sa human capital labi na sa education, health ug nutrition sa mga kabataan kay ugma damlag kining mga kabataan ang paglaum sa atong nasud (It is really true that the goal of 4Ps and other core programs of DSWD is to cut the intergenerational cycle of poverty and invest in human capital, especially in the education, health, and nutrition of children, because in the near future, these children will be the hope of our country)," said Justina during the Testimony of Change.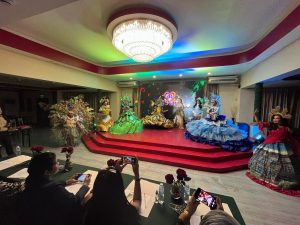 To find ways to improve Justina's family's living conditions, Justina became involved in her community, serving as a VAWC desk officer, Chapel President, and a barangay health worker.
Together with other active 4Ps parent leaders, she organized the Empowered Men and Women of Basay Association (EMWOBA), which aims to provide orientation on different Gender and Development (GAD) laws and to lobby for funding support in the barangay for the different GAD activities in the community.
In the final question and answer round, Justina was asked if the program made the beneficiaries lazy.
"Dili angayan igeneralize ang tanang benepisyaryo kay ako mismo ang resulta sa programa nga wala ko nagtinapulan. Nagmakugihon ko kay gusto nako makab-ot akong mga pangandoy sa kinabuhi tungod inspirasyon nako akong pamilya (It should not be generalized that Pantawid beneficiaries are lazy because I am a result of the program that I am not lazy. I will persevere so that I can achieve my dreams in life because my family is my inspiration)," Justina underscored.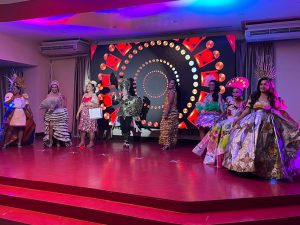 The 4Ps ReyNanay is a combination of two words, which are Reyna, or Queen, and Nanay, or Mother; the search paid tribute to empowered 4Ps mothers.
The pageant revolved around the theme "Inspiration and Aspiration," which tackled each candidate's inspirational stories and their aspiration to further uplift their family's level of well-being with the help of the program. ###
(49) Views