"Ganahan ko motabang sa ubang nanginahanglan kay kabalo ko sa feeling sa kalisod (I like to help others who are in need because I know the feeling to have nothing)," said Jerelyn Balasabas, 37-year-old, from Barangay Sacsac in the town of Manjuyod.
Growing up in an impoverished family, Jerelyn has committed to help the poor and underprivileged in the community.
When Jerelyn and Raian got married in 2008, they lived in a lot owned by relatives and agreed that they would take care of the property. The couple started to plant banana trees in their backyard and would sell the fruits to the market to augment their income.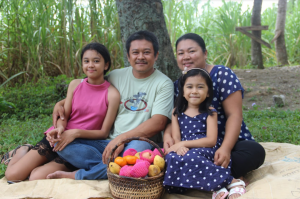 As the two build their own family, Jerelyn supports her husband, who worked as an electronic technician. With the family's meager income, Jerelyn ably manages their budget based on their needs like food and clothes.
The Balasabas family became part of the Pantawid Pamilyang Pilipino Program (4Ps) in 2011, and during that time, they have a daughter named Rheannah. The cash grants they received augmented their income, especially in the education and health of the family. Their second daughter Kheziah was born in 2015.
"Dako ang natabang sa 4Ps sa among pamilya kay napun-an ang among kita aron makapalit kami sa among mga panginahanglanon labi na sa pagpa-eskwela sa mga bata (4Ps helped our family a lot because it augmented our income for us to buy our needs, especially for the education of our children)," said Jerelyn.
She actively attended the Family Development Session (FDS) and gained more knowledge on family values, disaster preparedness, financial literacy, and other topics that are useful for her family.
Abandoned Children
As Jerelyn became active in the community, she also made friends with them. She shared that a 4Ps family-beneficiary from Ayungon town settled in their barangay after the father died due to a family feud.
The family of Maria (not real name) lived near the Balasabas family together with her three (3) children. Maria raised her children by providing manicure and pedicure services in the neighborhood. After a few months of stay in Manjuyod, Maria had found a new live-in partner. However, the relationship did not last long.
Heartbroken and distraught, Maria fled the town in the last quarter of 2020 and left her three children with nothing.
Concerned by the welfare of the abandoned children, Raian and Jerelyn decided to build their own house made of local materials like amakan. Raian also installed electricity in the house. The family also provided a table, bed, chairs, and other household items. The two daughters also helped their parents attend to the children's needs and sometimes would visit and play with them.
Jerelyn shared that it broke her heart when the mother abandoned her children. And it would be more painful if the community would also neglect them.
She mobilized and asked assistance from other 4Ps family-beneficiaries and neighbors to help the children.
"Pasalamat mi ila Kuya Raian and Ate Jerelyn kay wala mi nila gipasagdan. Bisan paman dili mi nila kapamilya o kadugo, gitabangan mi nila ug gibuhatan og balay. Ang kaguol namong mga igsoon nawala tungod sa mga tawo nga nagmalasakit kanamo. Ako ug ang akong mga igsuon, forever mi nga mapasalamaton nila (We are thankful to Kuya Raian and Ate Jerelyn because they did not abandon us. Even though we are not blood-related, they helped us and built a house for us. Our painful life ended because of the people who genuinely cared for us. My sisters and I are forever grateful to them)," said the eldest child.
Currently, Maria's two elder children are high school graduates, while the youngest is in grade 10.
Aside from the 4Ps cash grant Maria's children received, the Balasabas family gave them also allowance. Other concerned neighbors also provided for the children's daily meals.
Livelihood Association
In 2018, Raian and Jerelyn together with other 4Ps partner-beneficiaries, decided to start their own livelihood association.
Determined to have an additional source of income, the Balasabas family organized an association and named it Sac-sac Livelihood Farmers Association.
Composed of sixty (60) members, all of which are 4Ps partner-beneficiaries, the association aims to augment their livelihood and to have a sense of camaraderie within their barangay.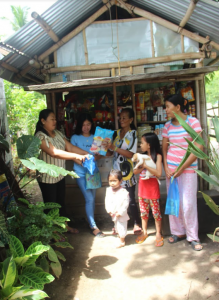 Jerelyn was elected as President of the Sac-sac Livelihood Farmers Association and led in securing the business permit from the local government unit. The group is also registered with the Department of Labor and Employment (DOLE).
Her innate leadership skills and compassion towards other people shine as she leads the group.
Because of the group's unity, tenacity and resourcefulness, they started a merchandising store with a start-up capital of Php 10,000.00.
The merchandising store sells various items like rice, condiments, toiletries, school supplies, and other items for household use. The store was able to help its members and the rest of the community as well.
Whenever the members need some items for use at home, they could immediately buy from the store. Every purchase is logged in the store logbook, and each member will get the share of profit every end of the semester.
After three years, the association has earned a total of Php 25,000.00 and was able to share to all members the amount of Php 300.00 for the year 2019 to 2020.
For the year 2021, they have total earnings of Php 12,000.00. The members agreed that they will not share the income they accumulated for 2021 and instead they will use the money to buy more supplies for the store.
"Dako gyud ang natabang sa tindahan sa association kanamo kay didto kami moduol kong mahutdan mi pangbugas sa balay labi na kadtong naglockdown tungod sa COVID-19. Nakatabang sad ang grupo nga mapalig-on ang among relasyon. Magkalalis man usahay pero dili magdumtanay kay magkasinabot man (The association's store greatly helped us because we can rely on it whenever our rice supply at home is depleted, especially during the lockdown due to COVID-19. The group also helped in strengthening the relationship among its members. Sometimes, there would be arguments, but it will not be taken against each other because there is already understanding among the members)," said Joycy Tayco, a 4Ps beneficiary and member of the Sac-sac Livelihood Farmers Association.
The group also joined various activities in their barangay like clean-up drive, barangay meetings, and sharing relevant information among the neighborhood.
"If not for the Balasabas family, the livelihood association would not be realized. The Balasabas family was instrumental in organizing the group," said Joycy in dialect.
A Heart of Service
Despite the lack of resources, the Balasabas family continues to share whatever they have. They believe people could help others in different ways when done from the heart and without expecting in return.
They consider every help a chance to grow as a person and as a family.
As Raian and Jerelyn continue their family's journey, they vow to share and help others. And teach these values to their two daughters. ###
(105) Views