The Department of Social Welfare and Development (DSWD), Field Office 7 through its National Household Targeting System for Poverty Reduction (NHTS-PR) is now hiring 3,234 field staff for the Second Round of Poor Household Assessment in September.
These include 85 Area Coordinators, 432 Area Supervisors, 2,117 Enumerators, 300 Verifiers and 300 Encoders.
To be an Area Coordinator and Area Supervisor one must be a bachelor's degree holder preferably any course in Social Science, he/she must have at least one (1) year experience in a supervisory role, must have good communication and interviewing skills, must be good in conflict resolution and mediation work and should be computer literate.
For Enumerators one must have at least two (2) years of college education, must have good communication and interviewing skills, physically healthy, willing to travel to far flung barangays and must be computer literate especially on android applications.
To qualify to be an Encoder and Verifier, he/she must have at least two (2) years of college education, must be computer literate and has an encoding speed of at least 35 words per minute.
Interested applicants may personally submit their application letter, comprehensive resume with a 2×2 recent ID picture and a photocopy of transcript of records (TOR) to their City or Municipal Social Welfare and Development Offices where he/she resides.
Deadline for submission of applications will be on July 26, 2013.
These newly hired field staff will go through an intensive training starting August before they will be deployed to their designated areas for the actual assessment conduct on September.
DSWD-7 Regional Director Mercedita Jabagat, said that the target households to be assessed are 1,016,269 to cover all poor households in Central Visayas.
The newly assessed households will go through Proxy Means Test (PMT) for poor and non-poor identification. PMT is a statistical formula that estimates the income of households based on the proxy variables included in the household assessment form.
This stringent process aims to ensure the integrity of the database before sharing it to other government agencies and social protection stakeholders.
NHTS-PR assessment is conducted every four years. It is an information management system that identifies who and where poor households are in the country.
For more inquiries, please call the DSWD Field Office 7 at (032) 232-9505 local 118 or 123. One may look for Kerwin Macopia, Lee Estamo or Ruben Boybanting. (PR- Kerwin R. Macopia)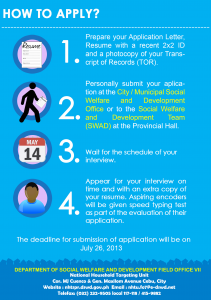 Hits: 6