"Whenever you find yourself walking a wrong path, there is always a chance to go back and find the way leading to the right path."
That is a point that Alex (not his real name), monitored child of the Pantawid Pamilyang Pilipino Program (4Ps), conveys as he talks about his life's journey now that he is about to go back to school for the school year 2021-2022 as Grade 9 after he dropped out from school in his school year 2018-2019.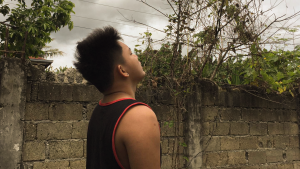 He was 16 when caught selling drugs to his friends as the SWAT Team raided their residence in 2019
"Dala sa among kawad-on, patay na akong papa, ug naa sa prisohan akong mama, usa kini sa mga rason ngano nabuhat nako ning mga butanga (Poverty, death of my father, and mother inside the jail are some reasons why I did these things)," explained Alex.
Alex is the 7th child of the eight children in the family, and only he, and his younger sister were left to his grandmother when their mother was in jail as his elder siblings already have their families.
The authorities turned over Alex to the local social welfare office. Later, he was referred to the Regional Rehabilitation Center for Youth (RRCY), a DSWD-7 residential care facility for children in conflict with the law. He stayed there for 11 months.
Alex participated in all the activities and followed the rules and regulations implemented inside the center. He went through a lot of counseling, guidance, and advice, which enlightened him to change his lifestyle and start a new life.
"Sulod sa center daghan kog nakat-unan ug usa na didto ang kabahin sa Ginoo ug paglaum (Inside the center, I learned many things especially about God and hope)," said Alex.
After 11 months of rehabilitation at RRCY, Alex left the center in January 2021 and returned to his hometown, where he met his mom, who was released in October 2020.
"Dinhi ko nakamatngon nga bati to ang akong gibuhat ug dili nako muusab pa sa illegal nga binuhatan ug mulakaw na sa dalan nga sakto (Inside, I realized my wrong doings and illegal activities that I will never do it again and find again the right path)," shared recalling his stay in RRCY.
Alex's mother started a new life and promised her children not to get involved in any illegal activities again so they could start a new life as a family. Here, Alex decided to enroll back to school in the coming school year.
"Samtang aduna pay panahon para magbag-o ug mageskwela, padayon gihapon kita aron makab-ot nato atong pangandoy (Change and go back to school now that you still have time, and continue achieving your dreams)," said Alex as he wished to have a brighter future and land into a decent job and get away from his dark past.
Currently waiting for the classes to start, Alex works at his uncle's dried fish business to help his family in their financial struggles.
Alex and his family remained grateful that despite their mistakes, there are still people who helped and believed in their ability to change and start a new life.
With continuous encouragement, social support, counseling, and intervention, the family is now an active beneficiary of the Pantawid Pamilya Pilipino Program and regularly attends the Family Development Sessions (FDS) that help build their character. ###
(60) Views