The Department of Social Welfare and Development (DSWD) Field Office VII will conduct its first short film contest that will highlight unconditional love through legal adoption.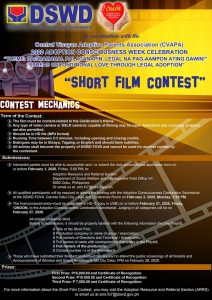 This contest is part of the annual celebration of the Adoption Consciousness Week and which continues to bear the theme "Pagmamahal Palaganapin, Legal na Pag-aampon Ating Gawin!" (Spread Unconditional Love through Legal Adoption), highlighting the continuous promotion of legal adoption as a means of providing compassion and unconditional love to abandoned, neglected and surrendered children.
All short films will be judged based on its technical merits, execution of the stories, relevance to the theme among others.
Winners will receive cash prizes and certificates of recognition. First prize is Php 15,000, second prize, Php 10,000 and third prize Php 7,000.
Interested parties must be able to accomplish and submit the duly accomplished application form on or before February 1, 2020 and email at arrs.fo7@dswd.gov.ph.
All qualified filmmakers are required to attend a brief orientation on February 3, 2020 at the DSWD regional office in Brgy. Carreta, Cebu City.
The short film entry must be submitted on or before February 21, 2020.
All finalists will have its public screening during the awarding ceremony and culminating activity at SM City Cebu on February 28, 2020. ###

Hits: 0