The Department of Social Welfare and Development (DSWD) Field Office VII recently conducted a basic orientation on customer service.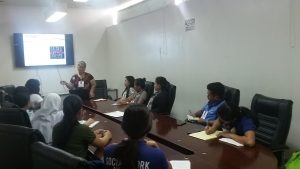 The orientation aimed to inform the students on the importance of giving the best service to individuals who come to the office to avail of the services of the agency.
Leah Quintana, regional information officer of DSWD 7 oriented the students. In her discussion, she stressed that in dealing with clients or customer, the only option is to provide excellent customer service.
She also talked about good telephone etiquette and pointed out that it is important because both the caller and the person receiving the call could not see language of their facial expression and body.
Quintana emphasized that the end goal of customer service is the customer satisfaction. ###

Hits: 622