Most people love to enjoy bananas for meals or, perhaps, snacks. And this reality has encouraged Adelfa and Challier Bondoc to venture into banana chips production.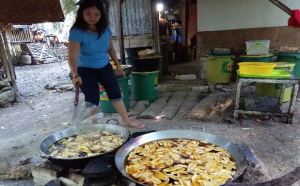 The story of the Bondoc's banana chips business began in 2016, when Adela got the chance to attend a livelihood skills training on banana chips production, initiated by a non-government organization.
But acquiring skills is one thing and financing a business is another thing.
Though Adelfa has acquired the skills, she hesitated to start the business because she had no capital and no equipment to produce banana chips with good quality.
"We barely had enough money to buy food for three meals, let alone put up a capital to start a business," said Adelfa.
Life was hard for the Bondoc family. Adelfa was a plain housewife and Challier, a habal-habal driver who also then took extra work as a carpenter and as a mason. Challier's income of Php 300 to Php 450 a day could not support to feed 7 mouths in the family.
Despite being a Pantawid Pamilya beneficiary who received cash grants for their three children's education and for the family's health, upon complying with the conditionalities set by the program, the Bondoc family had to find ways to augment their income. The minimal cash grants they have been receiving from the program serve only as augmentation to them.
The goal to start a business was thought of seriously by the couple and they decided to do it with strong conviction that it might work.
Their dream of giving their children a better life, pushed Adela and Challier to make their first banana chips out from the bananas they harvested from their backyard and sold it to one of the sari-sari stores in barangay Poblacion Candulang, Lila, Bohol.
Their delectable product became popular in their barangay because of the positive feedback from the people who tasted it. The Bondoc's banana chips were made known through word of mouth.
Delighted of the feedback on their product, Adela and Challier have been motivated to regularly produce their delicious sweetened banana chips. The couple strove to find ways to have the Php 3,000 start-up capital. With this amount, they were able to produce 70 packs, which they delivered within the municipality of Lila.
The demand for their banana chips has increased and they could hardly accommodate all orders because their capital fund was not enough and they lacked the equipment for mass production.
"I am glad that I am given the chance to be part of the Poblacion Candulang Sustainable Livelihood association organized by the DSWD Sustainable Livelihood Program. Through this, I received a grant of Php 8,335.00. It was sufficient enough to expand our banana chips business," shared Adelfa, the budding entrepreneur.
The banana chips business has been doing well and from a single sari-sari store, the Bondoc's banana chips are now displayed in convenience stores in the towns of Valencia, Loay, Dauis, Panglao and Tagbilaran City, all in Bohol.
"We earn Php 18,000 a week for this banana chips business. Because of this, we are now operating our own sari-sari store and also selling drinking water. We were able to also buy additional production equipment for the banana chips business and a multi-cab for our product delivery to customers.
"Makaya man diay pud namo mo-asenso kung maningkamot lang ug magtinabangay para molambo ang negosyo aron mahatagan og maayong edukasyon ang among mga anak. Dako kayo akong pasalamat sa DSWD-SLP kay pinaagi sa ilang tabang nga capital sa akong negosyo, nilambo gyud kini (We can really improve our life by working hard and giving support to the family's livelihood enterprise to make it flourish. With this, we can now provide good education to our children. I am grateful to DSWD-SLP for the financial assistance to expand our business)," expressed Adelfa.
Adelfa is a Pantawid parent leader, she serves as the direct link between the program and the beneficiaries. She also helps the Municipal Link especially in updating the profile of the beneficiaries and conducting meetings and Family Development Sessions. Adelfa has a big role in the overall implementation of Pantawid Pamilyang Pilipino Program. Her task as a parent leader is voluntary. She gives time to this voluntary work at the same time works hard to earn a decent living.
The success story of the Bondoc family is a manifestation that poor families served by the 4Ps, if given the opportunity to help themselves, with the support from the government and partner agencies would surely succeed.
"Now, I can proudly say that we are chipping our way to success and banana chips is our business," Adelfa happily expressed. ###

Hits: 114