The Department of Social Welfare and Development (DSWD) Field Office VII will stage the 4th Panaghiusa Festival at the Ayala Center Cebu on December 11-12, 2018.
Panaghiusa Festival was created four years ago to increase public awareness on the accomplishments and gains in the implementation of DSWD programs and services in region 7.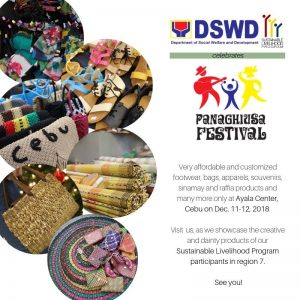 "The festival aims to showcase the positive impact of the programs in the lives of our partner-beneficiaries through their success stories and to empower them to become model and inspiration to others as well," said Regional Director Ma. Evelyn Macapobre.
The 2-day event will be participated in by DSWD staff, guests from local government units (LGUs), partner national government agencies (NGAs), non-government organizations (NGOs), academe and media. It is also open to the general public.
The first day of the event will have a thanksgiving mass at the DSWD regional office to be followed by a ribbon cutting of trade exhibit of Sustainable Livelihood Program (SLP) and information booth of DSWD featuring the centers and institutions and Knowledgement Management Fair at the Ayala Activity Center.
"I am inviting the public again to visit DSWD-7 information booths and buy SLP products as their way of supporting and helping our partner-beneficiaries improve their livelihood," added Director Macapobre.
The product display will include home decors like native waste baskets, hand painted products like dress and shawl, products made from raffia, fashion accessories like necklace, bracelets, earrings, bags, belts, slippers, sandals and various souvenir items made of recycled materials.
In the afternoon of December 11, there will be a festival parade by DSWD-7 staff starting from the regional office going to Ayala Center Cebu. An opening salvo will be conducted after the parade.
"The opening salvo will feature partner-beneficiaries from various sectors who will share their inspiring stories on how they were able to rise above the difficulties in their lives and remain positive and resilient in ever changing times," said Director Macapobre.
In the second day, Regional Director Ma. Evelyn Macapobre will deliver the State of the Region Address (SORA) to present the accomplishments of its various programs and services.
Other highlights of the festival will be the awarding of the 2018 Regional Search for Huwarang Pantawid Pamilya, Exemplary Pantawid Pamilya Children, Indigenous People (IP) Model Community and Kalahi-CIDSS Bayani Ka! winners. ###