The Department of Social Welfare and Development Field Office VII (DSWD-7) recently received awards from the Civil Service Commission (CSC) in the occasion of the 118th Philippine Civil Service Anniversary.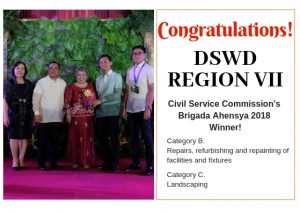 DSWD-7 won the Brigada Ahensya award under its two categories namely; Category B. Repairs, Refurbishing and Repainting of Facilities and Fixtures and Category C. Landscaping.
Brigada Ahensya is a yearly clean-up program in all government offices to improve the working conditions of civil servants and aims to instill cleanliness and orderliness in the workplace. This is the first time that DSWD-7 joined the Brigada Ahensya search with entries on the two categories.
Meanwhile, Kerwin Macopia received the award for the Outstanding Government Workers under the Dangal ng Bayan category.
Dangal ng Bayan award is conferred to an individual for performance of an extraordinary act or public service and consistent demonstration of exemplary ethical behavior on the basis of his/her observance of the eight norms of conduct, namely, commitment to public interest, professionalism, justness and sincerity, political neutrality, responsiveness to the public, nationalism and patriotism, commitment to democracy, and simple living.
Macopia started in DSWD-7 as an Administrative Assistant III under the Listahanan and currently holds the position of Information Officer of Pantawid Pamilyang Pilipino Program.
His brainchild, the Panaghiusa Festival is a unique event of DSWD that showcases convergence in all DSWD programs and services. Together with the Social Marketing Unit (SMU), they conceptualized the said event that started in 2015 to increase public awareness and highlight DSWD-7's gains and accomplishments.
As member of the SMU, he is also one of the persons behind the success of DSWD-7's provision of correct information to the public through social media.
Aside from the CSC Dangal ng Bayan award, Macopia also received the DSWD's Gawad Huwaran award. He is also part of the Gawad #DSWDMayMalasakit and Best Support Office given by the DSWD Central Office to the Social Marketing Unit of DSWD-7.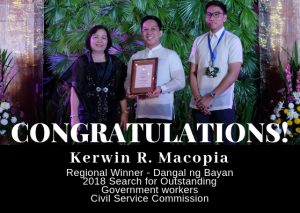 "Winning these awards has shown us that with hard work anything is possible. I have been fortunate enough to work with a great staff who are committed in their work. I hope these awards will inspire us more to work harder to give the staff and the clients the best environment that we can provide," said DSWD-7 Regional Director Ma. Evelyn B. Macapobre. ###