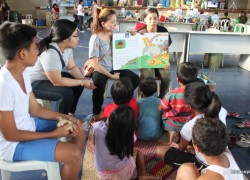 While various groups and individuals are busy assisting in relief operations ensuring that victims of Typhoon Yolanda meet their daily food needs, couple Joey and Lorna Eguia of Books in Bags chose to help children meet their continuing need for learning.
For two weeks now, the couple continues to hold storytelling and reading sessions for children at evacuation centers managed by the Department of Social Welfare and Development (DSWD) in Central Visayas.
When news broke out that 'Yolanda' will also hit Cebu, a pre-emptive evacuation was made particularly in high-risk areas in the province.
Couple Joey and Lorna joined the pre-emptive evacuation at IBC, Banawa, Cebu City.
"We have been inside the evacuation center a night before 'Yolanda' entered the Philippine Area of Responsibility (PAR)," the couple said.
Knowing that there would be nothing much to do at the evacuation center, they brought along with them books to read together with the children.
At the height of 'Yolanda,' the couple gathered the children in one corner where they taught them how to do origami while waiting for the typhoon to pass.
"Reading is both professional and personal to me. We hope that through our Story and Play Therapy, we would help hasten the healing of children, inspire them more to read, and eventually transform their lives," said Lorna.
A Teacher and a librarian by profession, Lorna was able to encourage her students to join her advocacy and be story tellers.
Currently, she has twenty (20) volunteers who join her in every play therapy session.
"I have been doing this even before the tragedy and it compels me to do more upon seeing that the kids are happy listening to meaningful stories," Lorna added.
For grade six pupil, Roman Gonzales, the activity is interesting because he gets to listen to different stories.
"Importante nga ang bata maaram bumasa ug sumurat. (It is important for children to know how to read and write)", shared Roman whose family is at the evacuation center.
His favorite subject is English and dreams to become a teacher someday.
"Karuyag ko maging Teacher para makatulong ha mga bata nga diri nakakapag-aral. (I want to become a teacher so that I can help children who cannot go to school)," Roman said in Waray-waray dialect.
Aside from the kids, Eguia's group also cater to youth and mothers and encouraged them to share their life stories and dreams.
The couple also introduced a new strategy through Bibliotherapy.
Bibliotherapy generally refers to the use of literature to help people cope with emotional problems, mental illness or changes in their lives or to produce affective change and promote personality growth and development.
"Part of rebuilding is knowing and tracing back your history, and history is found in books," Lorna emphasized.
In coordination with the DSWD, Books in Bags will set a regular visit to different evacuation centers as part of the psycho social intervention for internally displaced families. (PR – Kerwin Macopia)