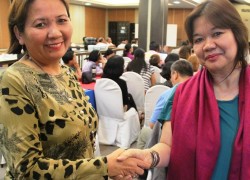 Major schools in Metro Cebu including the University of the Philippines Foundation (USPF), Southwestern University (SWU) and St. Therese's College (STC) have forged partnerships with each other to support and promote the implementation of the National Community-Driven Development Program (NCDDP) in the region.
NCDDP is the scale-up version of the Community-Driven Development (CDD) strategy used and proven effective by the Kapit-Bisig Laban sa Kahirapan – Comprehensive and Integrated Delivery of Social Services (Kalahi-CIDSS), one of the poverty reduction programs of the Department of Social Welfare and Development (DSWD).
Approved as a national program early this year by the National Economic Development Authority (NEDA) Board headed by the President Benigno Aquino III, the NCDDP will be implemented from late 2013 to 2019, covering 900 poor municipalities in the country. In the Central Visayas, the NCDDP will cover 39 municipalities in the Province of Cebu, 44 in Bohol, 16 in Negros Oriental and 5 in Siquijor. All of these areas have a poverty incidence rate greater than 26.5% based on the data from 2009 National Statistical Coordinating Board (NSCB) data.
As Central Visayas ranks third place for the most number of municipalities covered by NCDDP, the three schools have come together to form a consortium to augment this huge scale up of CDD operations.
"We believe on the community-driven approach of the NCDDP and we want this implemented in our communities in the most effective way possible. However, in the Central Visayas, there is a dearth in the availability of social work and other development-related course graduates who can effectively perform these tasks", said Consortium Coordinator and USPF Social Work Department Chairperson Rosario E. Sequitin. She further added that despite efforts to increase enrolments in Social Work programs offered by schools all over the country, the number of graduates from this field is still low.
The consortium is a welcome partnership for the DSWD Field Office VII as it faces the challenge of hiring a total number of 692 staff for its NCDDP implementation, 103 of which have to be on board by October 2013 and the other 589 by January 2014. "The social welfare agency needs project implementers for NCDDP who have the basic knowledge, skills and attitudes in community organizing. We are very happy that the academic community in Cebu has responded to our call to provide opportunities for our existing staff as well as incoming staff to gain necessary competencies to make them more effective in implementing community development programs", DSWD Assistant Regional Director Nemia C. Antipala said.
The consortium will offer a certificate course to college graduates of non-Development Work fields on the basic knowledge, skills and attitudes on community organizing and overall CDD practice used in the implementation of NCDDP.
The course includes fifty-four (54) hours lecture-discussion of social realities and development perspectives with case studies and introductions to community organizing and community development. Students will also undergo supervised field work and community integration in selected areas of Kalahi-CIDSS in the Central Visayas.
Consortium Chairperson Sequitin said that the certificate course is a qualified three-unit graduate course for those who want to proceed in various Social Work Master's programs, including Psychiatric Social Work, Social Work Administration, Social Work Education, Community Development, and Family Therapy.
DSWD Regional Program Coordinator Daisy C. Lor explained the process of enrolling in the certificate course and how it can affect getting hired as a staff of the NCDDP. "The applicants will still have to go through regular competency-based hiring processes, including the submission of application requirements and credentials, being interviewed and taking the usual exams. However, taking up this basic course on community organizing will definitely be advantageous, especially for applicants who have little or no prior development work experience", she said.
For registration inquiries and other details, one may contact Rosario E. Sequitin, Social Work Department Chairperson of USPF thru (032) 414-8773 loc 135 or 0932 657 7713. (PR-Simeon Remata III)