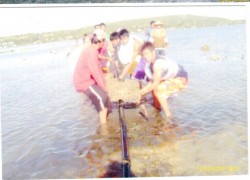 The 6.9 quake in February 2011 left in its tail not just loss of lives and property but a lifetime's worth of lessons. It created an atmosphere of crisis which demands prolonged conduct of relief operations together with rehabilitation efforts to support affected families and communities, such as the case of Zaragosa Island, Badian Cebu.
Water is a scarce commodity on the island of Zaragosa, when the quake broke the 2 main pipes of the island's major source of water supply for 363 households; it contributed to an atmosphere of panic.
The "bayanihan spirit" innate in every Filipino is what kept all hope going as each household contributed and pooled whatever resources they could scavenge in their homes prioritizing the children, elderly and pregnant.
As the threat of an after-shock receded, the amount of trash washed ashore and into their streets and houses was appalling. Clemente Mayormita, 77 years old and parent leader of the Pantawid Pamilya progam said "murag canal nga napuno ug sagbot ug ga lapok among palibot, nakuyawan mi tanan sa unsay sakit nga ma-abot unya wala pa gyuy limpyo na tubig" (our surroundings was like a sewage. It was full of trash, we were all afraid of the sickness it would bring and even worse was that there was no clean water available).
Both local and national government got to work to bring water back to the island. Each household volunteered more at least one member for the community rehabilitation, the spirit "bayanihan spirit" is back at work. As it pulled the islanders through the darkest hours it also rehabilitated the island in less than a month. Through the Department of Social Welfare and Development's Cash for Work Program, 363 hands  worked as one.
Cash for Work program provides daily cash assistance to the family as they rehabilitate their damage community. Though a short-term intervention program that provides temporary employment to meet the basic needs of these displaced families and at the same time participate in the undertaking of preparedness and rehabilitation.
Two years has passed since that fateful day and the cash-for-work program has long served its purpose. However every month of July thereafter, the community of Zaragosa Island, Badian Cebu commerate its "bayanihan" spirit by doing exactly what they did two years ago through their cash-for-work program which includes but not limited to discussion on disaster preparations, clearing and dredging of canals, handling and hauling of sand and gravel from the dredged canals, clearing of water pipelines and alignment of sinkers underwater, tree planting both inland and coastal and coastal clean-up. All these are channelled through Pantawid Pamilya's Family Development Sessions (FDS), which is participated by both member and non-member.
Clemente, a parent leader of the Pantawid Pamilya program said, "ang delubyo dili mu ila ug Pantawid Pamilya ka ba o dili mau nga ma membro man. Ang kaayohan sa pagpaminaw sa FDS usa sa pa-agi pag giya kanamo sa isla unsaon mi magkahiusa ing kaso mutira napud ang delubyo sama sa linog" (disaster will not choose whether you are a member of not. The lessons learned during FDS guides not just the members but everybody on what to do as one community in case disaster would strike again).
It is also during these months, that more than 200 members of Pantawid Pamilya in the island initiate the clean-up activities reminding the rest of the town folks the lessons learned on that fatal day.
Pantawid Pamilyang Pilipino Program is community development program that alleviates poverty of poor household with children 0-14 years of age through the provision of cash grants for short term cash assistance with set conditions. These conditions include 85% monthly attendance in school for the children to receive an allocation of P300/month/child but a maximum of three children only and P500/month/household as long as they visit the health center once a month for a preventive health check-up coupled with the monthly attendance of the family development sessions.
These sessions are conducted by trained professionals on specified topics such as Disaster Risk Preparedness.
The Filipino is indeed disaster resilient, it loves living life regardless of status quo that each and every one has every intention to preserve it. (PR_Lariba)