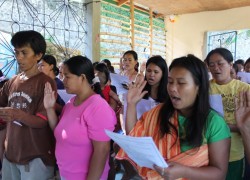 As DSWD's conditional cash transfer program better known as Pantawid Pamilyang Pilipino Program gained popularity and benefits by increasing the number of children in school and their participation rate, reducing drop out and of course child labor. For these alone, it was able to put 7.3 children in school nationwide. The once negative now turned positive health seeking behaviour of mothers especially the pregnant and lactating. As of 2012 impact evaluation 83.6% of the poor under the program are prioritizing their health such as vitamins, de-worming and weight monitoring.
 Having worked for some countries, it is now the flag bearer of hope in terms of poverty alleviation and social development for the Philippines because of its scientific targeting system and transparency.
 Five years is about to pass and the first set of more than 25,000 beneficiaries would undergo a transition from DSWD's Pantawid Pamilya program to the agency's Sustainable Livelihood Program as they continue their journey in crossing poverty.
 In doing so, the Pantawid Pamilya program in 2013 welcomes more than 889,000 households nationwide, and 43,329HH of that comes from Central Visayas. This is already the 7th set of beneficiaries covered in the program since it started in 2008
 Of the 43,000HH in Central Visayas, its first batch of 1,731HH beneficiaries shall begin its registration on the onset of August 2013. All four provinces have its share of new members, with Bohol having 177HH from 43 municipalities, Cebu-708HH from 50LGUs, NegOr-723 from 18LGUs and 123HH from the four municipalities in Siquijor.
 DSWD personnel will conduct the orientation and registration of new Pantawid Pamilya members. Documents such as birth certificates of children of both parents and children, baptismal and marriage certificate if available and 2×2 picture are needed for the registration.
 However prior to these household to be officially declared a member, they are to understand and sign the Oath of Commitment that they would follow the set conditions of the program which are pre-natal and post-natal, delivery a trained health professional, preventive health check-up once a month, enrolment and 85% attendance in school and attendance to family development sessions once a month. Failure to commit on these conditions would mean non-registration. (PR_Lariba)