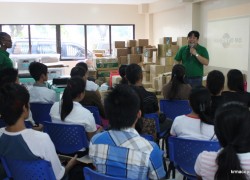 Go Negosyo collaborates recently with the Department of Social Welfare and Development in Central Visayas (DSWD) through its Sustainable Livelihood Program (SLP) for out of school youth.
"I think partnering with DSWD is the best marriage as far as the program is concern. The program is really intended to help the Out of School Youth (OSY)" said Go Negosyo Program Manager Manuel Dela Fuente.
Through the Negosyo mo, Buhay Ko Program (NMBK) of Go Negosyo the OSY are given a chance to accomplish their goals and dreams in life.
NMBK aims to screen, train and transform the youth, who will then be matched with a partner entrepreneur/business and these OSYs will commit forty percent (40%) of their income to a trust fund that will be used to finance their education.
This program was supported by various national government agencies led by the Department of Social Welfare and Development (DSWD), Technical Education and Skills Development Authority (TESDA), Department of Education (DepEd) and the Department of  Interior and Local Government (DILG).
"This is not only about employment but it is also changing their lives and giving hope. With their income, it can help them to support their studies", Dela Fuente added.
The participants were chosen from families in the Pantawid Pamilya Pilipino Program whose ages range from 18-25 years old. Out of the 56 applicants, 47 passed the initial screening.
Go Negosyo started the partnership with DSWD last year and catered OSY in Metro Manila. Cebu is the first province outside Metro Manila to have the pilot testing of the program.
NMBK is Go Negosyo's newest program, a project that gives opportunities, as it links the entrepreneurs with the out-of-school youth after he or she goes through a value formation program. (PR – Kerwin Macopia)